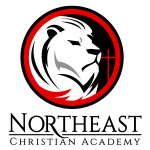 Welcome to Northeast Christian Academy!
We are a small, private Christian school located in Melfort, SK. We have been in operation since the 2018-19 school year. Currently, we have 25+ students, ranging from preschool to Grade 9.
Here at NCA, our mission is to assist parents by providing a quality, Bible-based education in a Christian environment. This is accomplished by nurturing each child to grow spiritually, academically, socially, emotionally, and physically, with an emphasis on Christian values and character development.
At Northeast Christian Academy we believe in developing the whole child – socially, physically, emotionally, intellectually and spiritually. Our vision is to educate students through Biblical values, character building, and academic excellence. Our small class sizes allow the teacher to spend time with individual students – giving them the attention and instruction they need to have a positive school experience.
Why Choose NCA for Your Child's Education?
Certified teachers
Strong emphasis on developing responsibility and leadership qualities
Christian content integrated with Saskatchewan Curriculum
Opportunity to develop and mature in a safe, accepting environment
Caring staff who focus on student's academic success, well- being and personal growth
Emphasis on respecting others
Treating others as we want to be treated
Small class size fosters more individual attention and instruction
Check out the brochures in the menu above for more information!